a fantastic fairytale endurance test
  in the kingdom of Denmark
In 2021 the EUROPEAN CHAMPIONSSHIPS of ADVENTURERACING took place in Silkeborg
2022: THE ORGANIZERS WILL HAVE A BREAK THIS YEAR BUT WE HOPE TO GATHER OUR ENERGY AND BE BACK IN 2024 WITH A BIG MULTIDAY RACE.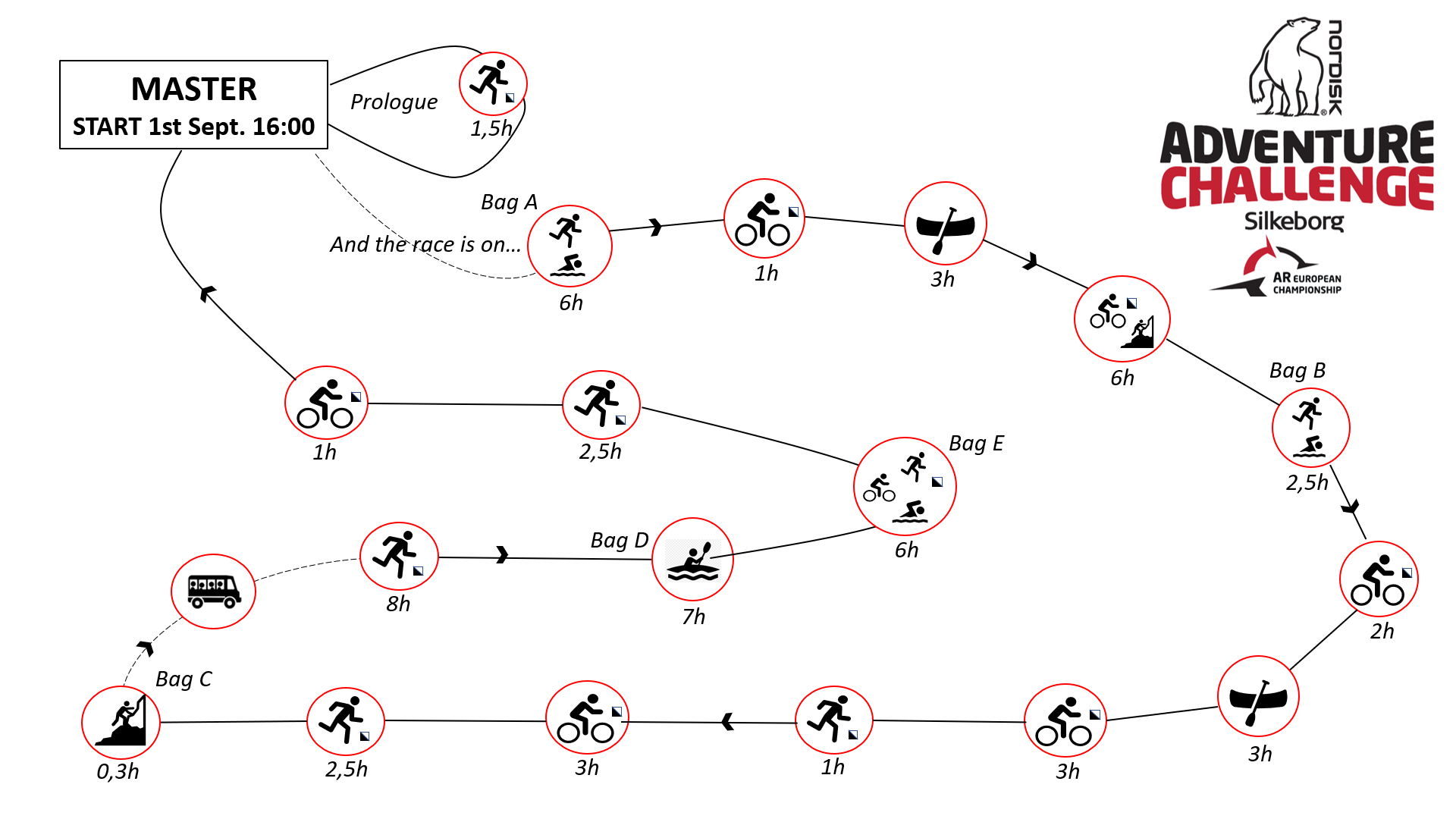 2022: 
THE ORGANIZERS WILL HAVE A BREAK THIS YEAR BUT WE HOPE TO GATHER OUR ENERGY AND BE BACK IN 2024 WITH A BIG MULTIDAY RACE. 
The Masters course is the officiel European Championsships 2021
We have put an honor and big effort into creating an unforgettable adventure and showing some of Denmarks wildest nature, nicest spots an cultural and historic gems. Teams will have to navigate remote coastlines, endless moorlands, easyflowing rivers, large fiords, green forests. We will use the nature itself to make a harsh race testing you and your teams skills to the max!
We will kick off the event with a memorable and spectator friendly prologue in the heart of the Danish Lakeland District, where we will also finish the race. After the prologue we will take you to the start of the course, which will be kept secret for now.
Throughout the race present racers with tasks that involves both cultural, historical and natural landmarks without compromising the spirit of an real expedition adventure racing which will with out doubt give us the Champions of European Adventure Racing
The distance of the race will be close to 575 km on a true point to point course, which makes this race special.
Sleep, hunger and temperature fluctuations combined with the many miles will challenge teams. The fastest teams can manage without sleep, but everyone gets a minimum of three nights on the route.
Welcome to a true adventure testing your team skills to a maximum, but granting you with an experience of a lifetime.
DURATION
60 – 80 hours
ROADBOOK (take a look at last years roadbook to get an idea of what to expect)
Roadbook YACS 2019
DISCIPLINES
Paddling (kayak/canoe) 30%
Trekking/Running 20%
MTB 39%
Open water Swimming + coasteering 10%
Rope/Climbing 1%
Navigation 100%
PADDLING (KAYAK/CANOE)
Paddling stages can take place both on rivers, lakes and more open waters. All teams will at some time be on the water during dark hours. The stages will largely test the teams' ability to maintain stable progress for a long time.
The stages on the water take place either in canoe or 1 double kayak and 2 single kayaks. This equipment is provided by the organizers.
It is allowed to bring your own kayak paddles and life vests but be aware that you will sometimes have to use the same life vest for swim run stages. If you do not have this equipment yourself, it can be borrowed by the organizers. The life vests are handed out before starting, so the team itself is responsible for placing it in the right bags. 
TREKKING/RUNNING
Running stages (sometimes also called trekking as the pace drops through the race) will take place in many different types of terrain. And the resistance from the terrain will also vary largely through the course. Navigation at these stages will sometimes be simple, and at other times very demanding.
MTB
The MTB brings the teams wide. On two wheels, the teams can pass large distances, and the teams that are good at helping each other will be able to keep really high speed on some of the stretches. But the MTB stages also come through terrain where the teams MTB skills will be tested.
Swimming / Coasteering
There will be several swim-run stages where the team will have to cross lakes or streams to avoid several extra kilometres on foot. Denmark is a country with a lot of ocean coast and coastal trekking/coasteering will also be a part of the race.
ROPE/CLIMBING
All climbing gear will be provided by the organizers and skilled staff will be taking care of rope sections. Safety is our biggest concern.
NAVIGATION
Throughout the race, navigation will be crucial. The teams navigators are challenged to review long road choices and to find items in demanding terrain. Additionally, there will be stretches that get so long that the concentration fails along the way.
We use different types of maps throughout the race – from detailed 1:10000 orienteering maps to 1:50000 maps for overview and rough orienteering.
It is not allowed to bring own maps.
REGISTRATION
We want to take good care of our International competitors, so we encourage you to take contact via email yetiacsilkeborg@gmail.com
Entry fee: